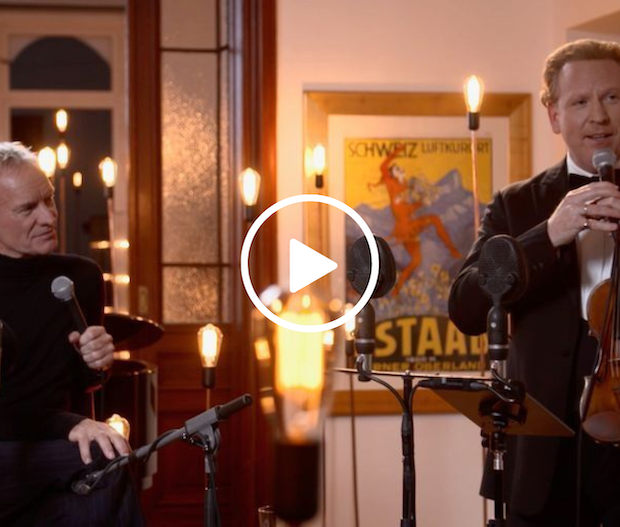 A protégé of Yehudi Menuhin, Daniel Hope spent much of his childhood in the older violinist's home, where he first met Sting, the iconic musician whose honors include 17 Grammy Awards, five Emmys, four BRITs, three Oscar nominations and a Golden Globe. Hope explains:
"Sting is a phenomenal musician. I've known him since I was a boy, when he happened to buy Menuhin's house in London, the house in which I practically grew up."
The two went on to record and perform on a number of occasions: Hope was a guest on Sting's album If on a Winter's Night and Sting sings new, original lyrics to a song by Hanns Eisler on Hope's 2014 album Escape to Paradise.
Launched in March 2020 during the first European lockdown and subsequently recognized with the 2020 Czech Crystal Prize, Hope@Home combined high-quality audio with the intimacy and immediacy of live, world-class home music-making, allowing the violinist – and his numerous distinguished guests – to stay connected with their audiences once the concert halls went dark. Together with its sequels, the show featured more than 400 musicians in 150 episodes on Europe's ARTE TV, where it was streamed almost eleven million times, raising thousands of Euros for artists in need.
Now, for a special holiday edition of the series, Hope reunites with Sting for "Fields of Gold" and "The Snow It Melts the Soonest," a traditional English folksong for which they will be joined by Sting's longtime musical partner, Argentinian-British guitarist Dominic Miller. Other artists include South African soprano Golda Schultz and the young members of the Leonkoro Quartet, who perform repertoire ranging from classical, pop and jazz to new takes on Christmas carols. Christmas@Home 2022 premieres on ARTE TV this Sunday, December 11, after which it will be available for on-demand streaming for the next 90 days.
---