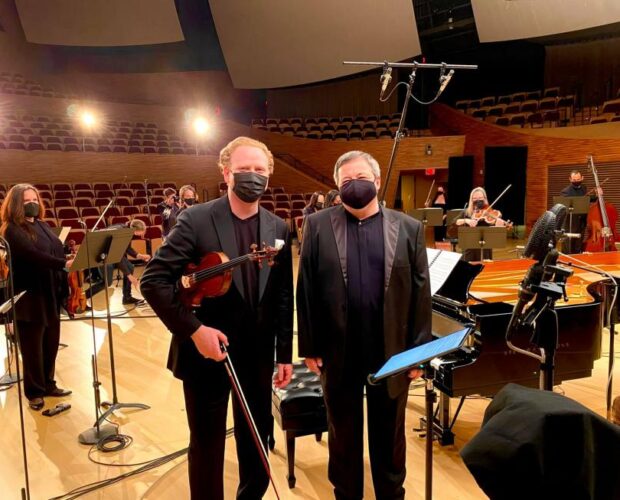 Berlin-resident, Zürich maestro, world-traveler (even in the pandemic) Daniel Hope has spent the past week in Northern California, visiting the New Century Chamber Orchestra he leads, and settling for a short while in Stanford to make music.
"What an inspiring musical week this has been," Hope writes, "filming with NCCO in the incredible Bing Concert Hall, touring the grounds of Stanford Live just as they prepare to reopen to audiences, and launching the world premiere of Tan Dun's thrilling new double concerto with my friend, pianist Alexey Botvinov. We have to keep the arts both live and alive, especially now."
Dubbed "Reunited," NCCO's Virtual Spring 2021 season opener reunites Hope with the orchestra performing and recording the world premiere of Tan Dun's Double Concerto for Violin, Piano, and String Orchestra, to be streamed as a concert film at noon on May 20 by Stanford Live. Pianist Alexey Botvinov returns for his second appearance with the orchestra in the program that also features Ernest Bloch's Concerto Grosso No. 1 and Aaron Jay Kernis's Elegy (to those we lost).
Read more here.
---