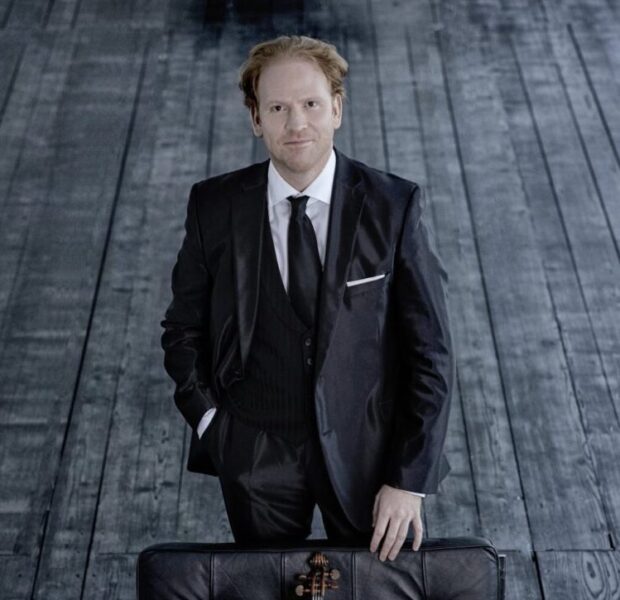 For their second set of concerts in the season, Daniel Hope and New Century present a selection of music from iconic films (Jan 19–22). Repertoire includes Bernard Herrmann's music from Hitchcock's Vertigo and selected film music by Ennio Morricone, both arranged by Paul Bateman; Gershwin's American in Paris arranged by Clarice Assad; and the Double Concerto for Violin, Piano, and String Orchestra with Percussion by Tan Dun – who won an Oscar for his score to Crouching Tiger, Hidden Dragon – featuring Hope and Botvinov as soloists. After performances of the program in San Rafael, Berkeley and San Francisco, there is an additional performance at Bing Concert Hall on the Stanford University campus, where Botvinov gives the West Coast premiere of Philip Glass's Piano Concerto No. 3 in place of the Tan Dun double concerto. Co-commissioned by New Century, Glass's concerto will also be recorded at Bing to be featured on a May 2023 DG release consisting entirely of New Century commissions.
In February, Hope and New Century present a program titled "Sparkling Connections" along with the San Francisco Girls Chorus under the leadership of Artistic Director Valérie Sainte-Agathe (Feb 10–11). The chorus performs songs by Lili Boulanger, Debussy and Schubert, as well as selections from Humperdinck's Hansel and Gretel, and the spring-themed program also includes Haydn's Symphony No. 49, "La Passione," and Mozart's Violin Concerto No. 1 in B-flat with Hope as soloist. The first performance is at Berkeley's First Congregational Church, and the second, minus the Humperdinck, at Sonoma State University's Green Music Center.
Hope and New Century present their fourth and final set of concerts for the season before setting off on their second European tour – ten concerts across Germany in June 2023 – with a program titled "Points of Origin" that features tenor Nicholas Phan (May 11–14). Two works explore America's identity as a melting pot: Jessie Montgomery's Banner, a reimagining of the U.S. national anthem; and the world premiere of the orchestral version of Nico Muhly's Stranger (co-commissioned by New Century and Palaver Strings), a song cycle that reflects on the American immigrant experience. The world premiere of British composer Hannah Kendall's …I may turn to salt, based on a text by British-Ethiopian poet Lemn Sissay, is also on the program, as well as Vaughan Williams's Fantasia on a Theme by Thomas Tallis and Britten's Variations on a Theme of Frank Bridge. For the La Jolla Music Society performance on May 12, the Vaughan Williams, Kendall and Muhly works will be replaced by Max Richter's Vivaldi Recomposed.
---