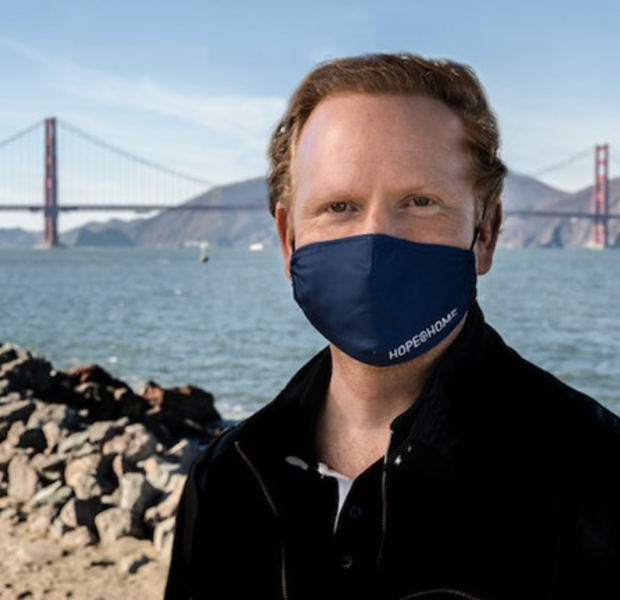 Hailed as "a hugely successful show … that has resurrected the art of the house concert" (The Guardian), Daniel Hope's hit TV series [email protected] was recently recognized with the 2020 Czech Crystal Prize. Now the award-winning show makes its U.S. debut, when the British violinist takes its newest version – [email protected] – Next Generation – to San Francisco, for six episodes recorded daily and streamed on November 18–23. Professionally produced by Kobalt Productions for Europe's ARTE television network, these half-hour episodes will feature musical performances by Hope and members of the  New Century Chamber Orchestra, of which he is Music Director, with composer Jake Heggie, percussion legend Zakir Hussain, pianist Garrick Ohlsson, and other special guests from the Bay Area.
Conceiving it as "DIY TV" for our socially distanced times, Hope created [email protected] in March, during the first European lockdown. Combining high-quality audio with the intimacy and immediacy of live, world-class home music-making, the daily series allowed the violinist and his guests – Christoph Eschenbach, Sir Simon Rattle, Christian Thielemann, Robert Wilson and many others – to stay connected with their audiences from the safety of his Berlin living room. Together with its sequel, [email protected] on Tour!, the show ran to almost 70 episodes, was streamed more than eight million times, and raised tens of thousands of Euros for artists in need. When Germany and most of Europe returned to lockdown earlier this month, Hope launched [email protected] – Next Generation, not only connecting people around the world, but also enabling established musicians to use their influence to help the next generation of younger, freelance artists at a time when most concert halls remain closed worldwide. About taking the series across the Atlantic for his upcoming episodes with the New Century Chamber Orchestra, Hope explains:
"I have had the privilege of making music in the U.S. for 20 years. It pains me to see such a music-loving nation practically silenced from the joy of live music-making. As Music Director of San Francisco's New Century Chamber Orchestra, I am concerned for the well-being of our wonderful musicians. It has been my goal for many months now to be reunited with them in some form, and to make music with them in America again. I am grateful to our board for making this journey possible, and to the ARTE TV channel for extending the cultural hand of friendship between Europe and the U.S. by agreeing to host six special episodes of [email protected] from San Francisco."
In keeping with the spirit of [email protected], all six episodes will offer an eclectic mix of distinctly American-sounding works to reflect the diversity of the nation's composers and culture. Highlights will include Carlos Simon's An Elegy: A Cry From the Grave, Philip Glass's Echorus and George Walker's Lyric for Strings, as well as works by Aaron Copland, Gabriela Lena Frank, Florence Price and Kurt Weill. Ranging from the classic to the contemporary, featured repertoire will also include music by composers from Edward Elgar and Antonín Dvořák to Grażyna Bacewicz and Hans Krása. The series will be streamed by ARTE Concert, the ARTE App, ARTE Concert Facebook and WDR; at the New Century Chamber Orchestra's website and Facebook page; and on Hope's own Facebook page. All six episodes will be archived and available free of charge for 30 days after the streaming date. To hear Hope talk about [email protected] – Next Generation on BBC Radio 3, click here (starting around 34 minutes into the episode).
---