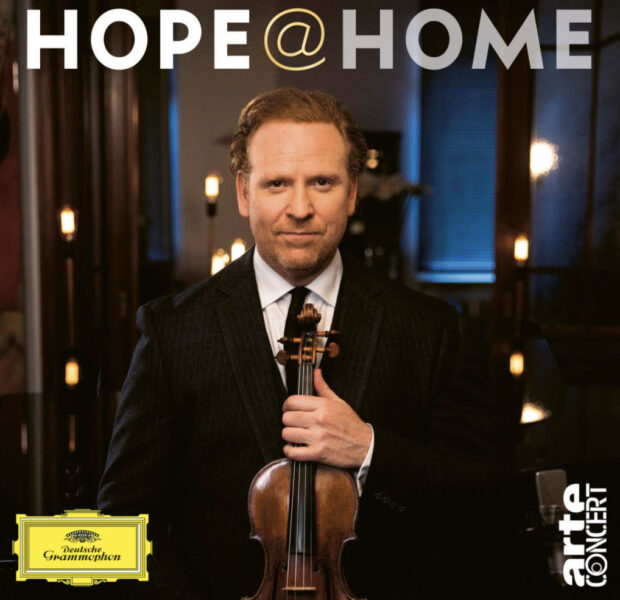 August 14 brings the release of [email protected], the newest recording from British violinist and exclusive Deutsche Grammophon artist Daniel Hope. Presenting the violinist with pianist-arranger Christoph Israel and a host of guest stars in radio-friendly selections by composers from Brahms to Nino Rota, the recording captures 21 highlights from Hope's hit TV series of the same name. Hailed as "a hugely successful show … that has resurrected the art of the house concert" (The Guardian), [email protected] was professionally produced from Hope's Berlin living room – live from the lockdown – for the German/French ARTE TV network. Combining high-quality audio with the intimacy and immediacy of live, world-class home music-making, the daily series allowed the violinist and his guests to stay connected with their audiences from the earliest days of the pandemic. Together with its sequel, [email protected] on Tour!, the show ran to almost 70 episodes, was streamed more than six million times, and raised tens of thousands of Euros for artists in need. Click here to pre-order [email protected] and here to watch the album's video trailer.
Hope conceived of the record to meet popular demand. Ever since early May, which marked the end of his TV show's first iteration, the public response has been overwhelming. He says:
"Even now I'm receiving somewhere in the region of 200 private messages daily from people commenting how sad they are that the show's over or reliving their favorite episodes from the ARTE Media Library. There's been an outpouring of support that's incredibly heartwarming."
Read more here.
---