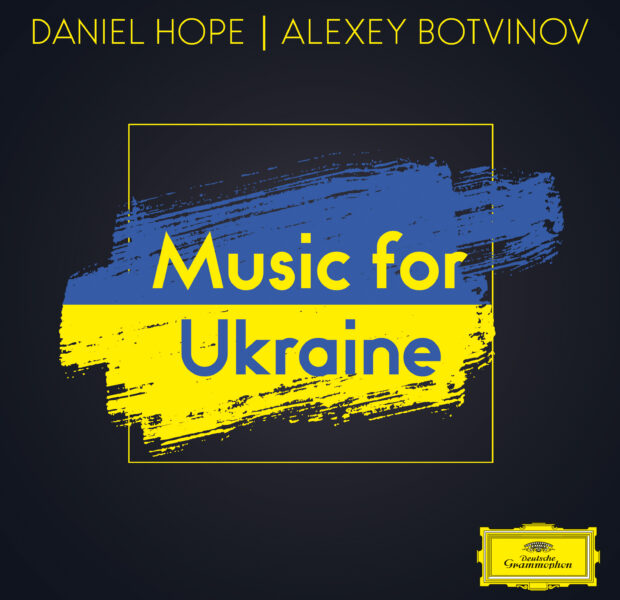 United in their support for Ukraine, Daniel Hope and pianist Alexey Botvinov recorded this EP featuring works by Ukrainian composers Valentin Silvestrov, Myroslav Skoryk and Jan Freidlin.
Everyone involved in the production donated their time and all future royalties will be donated to the Aktion Deutschland Hilft, a global relief emergency fund which is doing important work to support Ukraine. Learn more about their work here:https://www.aktion-deutschland-hilft.de/en/
—
Daniel on the "Music for Ukraine:"
Every June for the last six years I have performed as Artist in Residence at the Odessa Classics Festival. Odessa is a Mecca for violinists, thanks initially to the Ukrainian violin pedagogue, Pyotr Stolyarsky. Stolyarsky's name represents the special method for professional musical instruction of gifted children. In 1933 he founded the legendary Stolyarsky School of Music in Odessa, which is still active. He taught some of the greatest violin legends, including David Oistrakh, Nathan Milstein, Samuil Furer, Mikhail Fichtenholz and Boris Goldstein, who taught my own teacher, Zakhar Bron.
Odessa Classics was created by my friend, Ukrainian pianist Alexey Botvinov. Through him I have come to know and love Odessa, its rich heritage and its music loving people. Alexey and I were planning to be in Kyiv in March 2022 to work with the composer Valentin Silvestrov, preparing to record an album of his music. Just a few days before the Russian attack, Alexey left Ukraine with part of his family: now they are unable to return. Together we quickly organised televised benefit concerts in Germany for Ukraine, at the Frauenkirche in Dresden and the Kaiser Wilhelm Memorial Church in Berlin. The piano manufacturer Bechstein donated more than €500,000 Euros to Ukraine and both the current and former Presidents of Germany lent their support. The Beethovenhaus Bonn, of which I am President, launched 'Hope for Peace', an emergency aid programme to support refugee musicians from Ukraine with benefit concerts, as well as providing living space, recording and concert opportunities. Meanwhile, Valentin Silvestrov, aged 84, was somehow able to escape the bombing of Kyiv and walk across the border to safety. After he attended our concert in Berlin on March 11, we were all the more determined to record his music as soon as possible.
This is our next attempt to keep Ukrainian music alive. We have recorded an EP by three composers: Silvestrov, Skoryk and Freidlin, giants of Ukrainian music. All proceeds from these digital tracks will be donated to the German charity Aktion Deutschland Hilft which supports Ukraine. We hope this will also be the starting point of a digital collection to which we – and perhaps others – can add in the future. For example, the young violinist Illia Bondarenko, whom I taught last year and who filmed himself in a basement shelter in Kyiv playing a Ukrainian folk song accompanied by 94 violinists in 29 countries, has just completed a new piece for us, but which arrived after this recording was made.
There are many other works out there which deserve to be heard. Especially now.
Daniel Hope
---